FISHIMPACT : hand gemaakte Belgische softlures die de allergrootste recordvissen vangen!

Shads van FISHIMPACT zijn handgemaakt, in België, stuk voor stuk
Met een groot aantal fieldtesters worden ze ontworpen én getest door vissers voor vissers!
Vele PR's (persoonlijke recordvissen) werden aan deze kunstaasjes gevangen, en de eigenaar Christophe De Hertogh wist in eigen persoon alleen al niet minder dan 5 recordsnoeken van boven de 130 cm te vangen met zijn kunstaasjes.‍
Onze persoonlijke favoriet voor het pelagisch vissen is genaamd 'The FI Virus'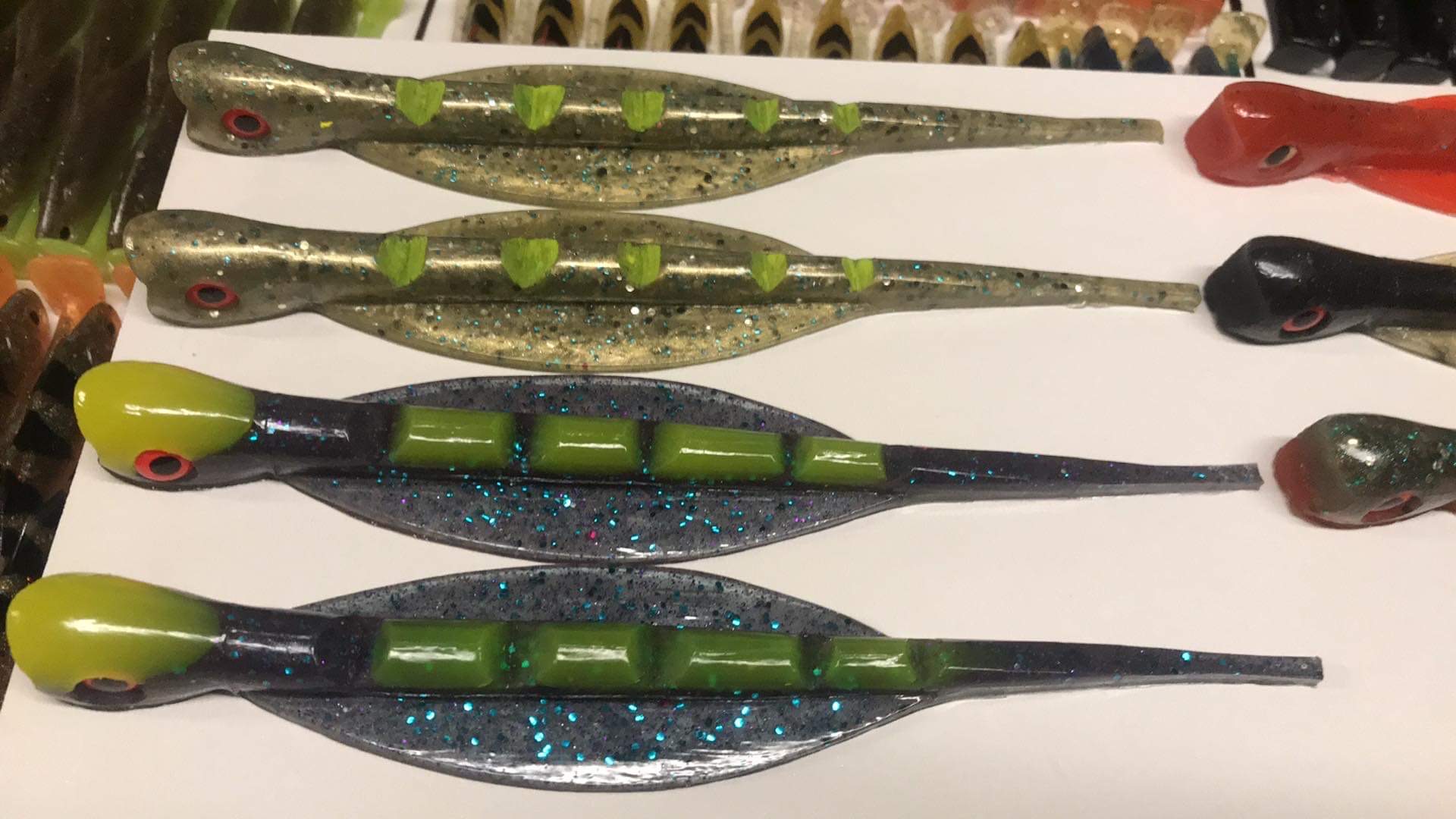 Pike flies are awesome...

Flyfishing for pike is really a delightful sport! There's no feeling like bringing a pike in, just fighting and pulling him in, with the flyline with your bear hands. Moreover flyfishing from within a bellyboat really is the end !!!
Typically you would use an aftma 8 or 9 weight line, yet a lot of combinations are possible :
it is by all means the pike fly which decides whether to use a #6 or upto a #12 !!!
‍
These popular tying-patterns will help you catch pike depending on the flygear you use.
For an aftma 6,7 : the Irish-blackie.
This is a small light weight streamer, tied on a Bass hook size 0/3.
The use of synthetic chenille and spectra as a tail makes it very swift to cast.
Although a small silhouette in the water, this is a real catcher !!!

‍
For an aftma 8,9 : the Pink Lady.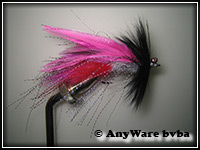 Here we have a slightly bigger size 0/4.
Materials used are : feathers, strung and hackles, catching more wind whilst casting. Also eyes have been foreseen, so it can be fished slightly deeper.
‍
For an aftma 10 : the Yellow Bunny.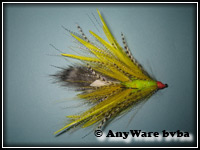 Again a short-length streamer on a single Bass hook 0/5.
But materials used are causing a lot of weight, and a lot of air-friction when casting.
Typically we use zonkerstrips (rabitfur) which absorbs a lot of water, making the fly heavy to cast, but gives it great action in the water. We tie all feathers and strung sideways, to cause a bigger silhouette, aiming for the bigger pikes.
‍
For an aftma 11 : the Irish delight or the Belgian Patriot.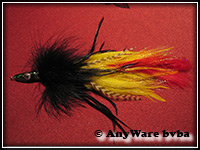 Here we see long-length streamers, using a jointed design and a size 1 Treble at the end.
The size and the amount of feathers used, will require a heavier #11 line to be able to cast it.
The jointed design provides an irresistible action...
We love to tie it in the Irish colors, the Belgian colors or any other nationality !
No need to tell you the pike love it. Often they attack it and suck it all the way down their throat ! This jointed design is by far our favorite !!
For an aftma 12 : the AnyPikeHunter.
This is a very huge streamer consisting of lots of bucktail tied sideways on a 0/6 Basshook. Extended by two full-length zonkerstrips and a long stretch with a treble on the end !
Watercap on the head, jointed, extended, huge silhouette... In search for the record specimen !!

‍

Spinnerbaits are unbeatable...
One of the very best baits to head for pikefishing are the so called Spinnerbaits.
Typically they are used in weedy situations, and have the particular advantage to not snagg up !!!
Pike is really fond of the spinnerbait, yet the commercially sold spinnerbaits have two big disadvantages :
They are usually too heavy, and you lose a lot of pike while playing the fish
Over the years we have been improving the design of the spinnerbait and have found a 4 grams version to be the ideal weight, which one can cast a whole day long, and retrieve nice and slowly throughout the weeds.
Secondly we changed the inox V shape with a 100/100 nylon tippet for greater hooking chances and better odds to not lose the fish while playing it.
The Patriot spinnerbait
Typically our spinnerbaits use a leadhead of 4 grams only and a Bass hook size 0/4.
We dress the hook with a pearl to tie up our bucktail and feathers in a nice "skirty" way, giving loads of action.
This sample has again the colors of our Belgian nationality.
These spinnerbaits can be fished deadly slow, a real catcher !!!

‍
The Orangina.
Here we have an orange variation which on occasions proved to be unbeatable.
We decorate the head with mylar or with acetate floss, put some eyes on it and finish with epoxy.
We fix the nylon with epoxy and choose a medium sized spoon, not to oversize it for the 4 grams head
The Yellow Head.
In a six grams version, you can go slightly bigger on the spoon. Although heavier on the rod and the pulse, this one can bring in the bigger pike, and double spooned or heavier spinnerbaits can certainly be used, you won't fish them a whole fishing day, yet, they could bring in the +20Lbs species...
‍
The Black Zulu
When habituation to lures is getting in the pikes hunting behavior, a completely black sample sometimes proves better

Other successful pike lures...
The bull frogs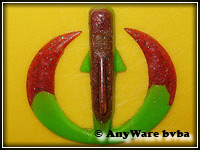 Imitations of frogs, small or big, are major catchers in the spring and the early summer.
We make them ourselves, pouring liquid plastic or melted shadresidues into a mall of clay.
In different colors, they seem irresistible and the larger sizes bring in the real big pikes !

‍
‍
The shads.
In regular tackle-shops you will find plastic shads in all sizes, colors and shapes.
For piking we prefer a 5 1/4 inch model equipped with two trebles and some lead for optimal balance.

‍
Jerk baits.
Although usually jerked or twitched from the shore or off a boat, even in a bellyboat you can be very successful with jerkbaits. Our préférés are the Salmo Sliders and Fatsos, as well as the Strike Pro Buster Jerks
‍
‍
Poppers and stickbaits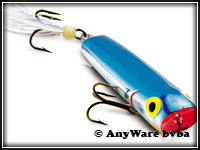 Very much alike, but even more sensational are the poppers and the stickbaits. As they are truly surface lures, they give away loud noise, plenty of action and loads of adrenaline when voraciously attacked by pikes. Twitch, stop and go, walking the dog.. We definitely love the thrill of it!!! Favorites here, are the Storm lures : Chug Bug, WTG, Mitsou : all lures which are also very successful for sea-bass in the summer !
‍
Jointed and other lures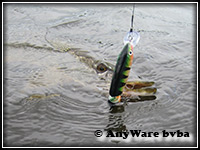 Of course there are an uncountable number of lures from different brands all suitable for pike fishing.
‍
‍
Spoons
A very attractive lure for plenty of fishing variation and very easy to handle in the bellyboat! They exists in numerous weights, lengths and forms, and are thus really adequate for no matter which situation. By far our favorites are the Fox Henchman and the Gladiator.